Virtual Online SBI Credit Card:- How To Create Online SBI Virtual Credit Cards? If you were searching for this, you are in the right place. State Bank VCC or Electronic Cards Often Known as E-Cards is One Of The Safest Modes of Payment Among Different Merchants In India.
As Online Crime Like Phishing and Hacks Have Increased That's Why Using Sbi Virtual Credits Cards Are Much Safer As Compared To Regular Credit Cards. So check out the easy method for How To Create Online SBI Virtual Credit Cards.
You can use SBI VCC as a regular debit or credit card. Once you have used your card it will be blocked automatically by the system and Even if you don't use it for two days, it will again get blocked by itself. That's why we are taking it as the most flexible and safest mode of payment.
Virtual cards can also be created with ICICI Bank, Axis Bank, and HDFC Banks but State Bank gives more flexibility as compared to any other bank. So now Let's get to the point. The method for How To Create Online SBI Virtual Credit Cards is very easy which is explained with screenshots below.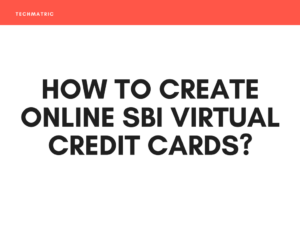 Features of SBI Virtual Cards
1) Can Be Created As Many Times As Per Need
2) No Extra Tax or Transaction Fee For Card Creation or Usage
3) Reliable and More Secure Than Physical Credit or Debit Cards
4) Build for Single Time Usage ( Will Be Automatically Blocked After First Transaction
Requirements For Sbi Virtual Credit Cards1) You must have State Bank Account Obviously
2) You Must Have Internet Banking Enable On That Account
3) Your Mobile Number and PAN Card Must Be Linked With Your Account.
How To Create SBI Virtual Credit Cards
This is how you can Create Online SBI Virtual Credit Cards anytime.
1) Go to Onelinesbi
2) Go To Personal Banking and Log In With Your Credentials ( User/Pass )
3) Now After Successful Login Go To E-Cards Section ( As Shown In Image Below )

4) Enter Any Desired Amount, You Want To Be In Your Virtual Card ( Between Rs.100 to Rs.50000) and Tick "Terms and Conditions" and Click on the Generate Button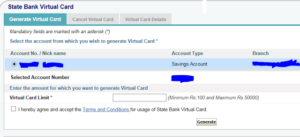 5) In the Next Screen You Will See Your Account & Amount Details, Just Click on Generate Button Again

6) Now an OTP ( One Time Password ) Will Be Sent To Your Mobile Number Which You Have To Put On Your Screen.

7) Done, Next Screen Will Show You Your Virtual Credit Card.

8) Note Down the Details of the Cards Like Name, 16 Digit Card Number, CVV, Expiration Date
This was the process for How To Create Online SBI Virtual Credit Cards.
How to use SBI Virtual Card:
1) Select required goods / services on merchant website.
2) Select State Bank Debit Card / Visa Card from the payment options.
3) Enter the Virtual Card details on the website.
4) Enter your secure 8-Digit password (OTP), received on your mobile.
5) After successful validation, you will receive SMS on your registered mobile confirming the transaction.
6) After the transaction, the Card will be de-activated and cannot be used again.
How Transaction Works On SBI Virtual Credit Card:
1) If You Have Rs.5000 in Your Virtual Card and You Made a Transaction of Rs.4600 Then Rest of the Amount Will Be Credited in Your SBI Account Automatically.
2) If You Dont Used Your Card For More Than 2 Days Then It Will Be Automatically Blocked For Security Reason. But You Can Create New VCC At Any Time You Want.
Create Online SBI Virtual Credit Cards now and enjoy these features.
Conclusion :-
Do you know How to Track JioPhone Booking Status [deliveries starts]
SBI is one of the leading banks with best security in India. Customers can unlock numerous features while being an SBI customer. If you have any issues or queries in How To Create Online SBI Virtual Credit Cards ( VCC ), comment below ? We are here to help.
Related Queries:-
how to use sbi virtual card
icici virtual card
what is the use of virtual credit card
virtual card meaning
what is virtual card
virtual credit card for international payments
virtual credit card generator
what is virtual debit card
state bank virtual card charges
how to use virtual card
virtual card means
hdfc bank virtual credit card
virtual card payments means
what is virtual credit card
pockets wallet by icici bank
virtual credit card international
virtual credit card paypal
virtual credit card free
chase virtual credit card
virtual credit card uk
virtual credit card number
prepaid virtual credit card
what is a virtual credit card payment
bank of america virtual credit card
what is physical card
physical card means
virtual us credit card
american express virtual credit card
virtual visa card instant
virtual prepaid debit card
spectrocard
virtual visa card free
virtual us credit card for non-residents
ecopayz virtual card
free credit card numbers and security code and expiration date
virtual credit card number paypal
fake paypal credit card numbers that work
virtual credit card paypal verification free
temporary fake credit card number
free virtual credit card with money
fake paypal credit card generator
fake credit card for paypal verification
temporary credit card number paypal
virtual credit card number generator
virtual greeting card
temporary credit card number chase
virtual playing cards