[ad_1]
Hey guys, you must have heard of an amazing app known as WA tweaks. If you are bored of your simple whatsapp and you are not a simple guy who doesn't know how to root, then we are here with an app that you will surely love. WA Tweaks is an app developed by Alex193a who did his best at his part. Whatsapp has more fun now with this app. If you have a rooted phone, then only this app will work for you. So make sure you learn rooting before downloading WA Tweaks. You can still use the app if your phone is not rooted but we recommend you to go for rooting as that is the real fun ?
WA tweaks without root works well but a lot of best features are unable to work without rooting. You can enjoy some basic features. wa tweaks app download link is here in the post. Get Ready for WA tweaks apk download.
WA Tweaks Version Info
WA Tweaks is an app from which you can enjoy the extended features of Whatsapp like creating group invitation links in a single click, Video calling without any error etc.
| App | WA Tweaks |
| --- | --- |
| Version | 2.6.1 |
| App Size | 3.72 MB |
| Android Version | 3.0 and Above |
| Developer | Alex193a |
| Total Downloads | 1,000,000+ |
How to Download WA tweaks ?
1 – You know what's the best ? We have prepared a single click Download link only for you. Just click on that and tadaa !
2 – Install the app in your phone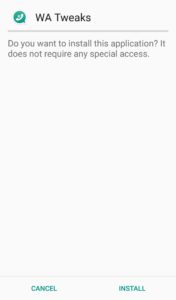 Click on Install
3 –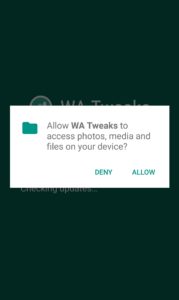 Grant whatever permission it asks ?
4 – Grant Root Permission 
5 – Turn on Airplane mode in your phone.
6 – "Force stop" the Whatsapp application. Go to Settings >> Apps and click on Whatsapp. You will be able to see "Force Stop" button. Click on it.
7 – Open WA Tweaks and Enable the Features that you want in your Whatsapp ?
8 – Now open Whatsapp and Turn off the Airplane mode.
Enjoy the Features ! Hope you like WA Tweaks app.
" We are just providing the official apk of WA Tweaks. We are not the official developers and all credit for this app goes to the developer Alex193a. You can Donate him via Paypal "
WA Tweaks Version :-
You can see in the screenshot that this is the Latest version of WA Tweaks.
Can I Download this app from Google Playstore ?
No you can't ! Google Playstore keeps only official things and app that tweak whatsapp are not allowed on the store. So you can download it from external sites only.
What If I don't know rooting ?
I suggest you to learn rooting as it is something that need to learn to explore your mobile to much greater extent. You can download apps like Kingroot and root your mobiles. Make sure the mobile is at least one year old as it may void your warranty.
You can still enjoy the basic features of WA Tweaks. So don't worry ?
Why Should I Download WA Tweaks ?
So you are still confused whether you should Download the app or not. You know what ? The app has so many features that you can't even imagine ! Earlier, We needed to install apps like GB Whatsapp for creating invitation link in a group etc. But now, with a single app, we can anjoy best video calling, Group link invite in single clink and much more.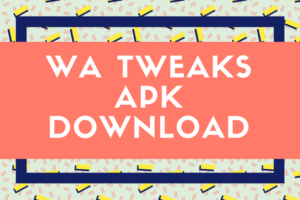 Here are the features that you can find in the app.
Enables Creating new Group Links.
Enable multicast.
Enable video calls.
Enable two-factor auth.
Enable editor.
Enable mentions.
Enable GIFS you quickly send gif to your friends.
Enable internal video player.This video player only receives WhatsApp video.
Enable new home UI.
Enable new contacts selector.
Enable Gif search.
Enable a notification with the expiration date of the current version of WhatsApp will be shown.
You will able to bypass the expire the expiration date of Whatsapp.
You will be able to hide your online status on Whatsapp.
Enable your contact will not receive blue tick.
You will able to send unlimited media from Whatsapp gallery.
You can set here an excellent status for your Whatsapp profile.
Easily Enable the show push name that means if enabled wills how to show a Toast whenever you receive a message with the "push Name" of the person who sends it.
You are also backup messages decrypted DB and backup WhatsApp setting.
Much more.
What Will Happen if I Open WA Tweaks Without Root / WA Tweaks with  No Root ?
You will get this message when you will open WA Tweaks. Click on OPEN ANYWAY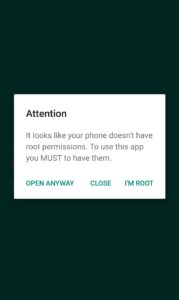 Most of the Features won't be available for you. You can enjoy basic Features like Backup etc.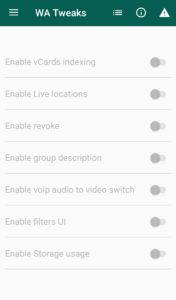 We Recommend you to root your phone to enjoy the extended version of Whatsapp. You can see in the screenshot that so many features are there that you will love to see in your Whatsapp.
App Permissions :-
Full Network access
Prevent Phone sleeping
View network connections
Internet Access
Draw Over other apps
Final Verdict :-
Hey guys hope you like the post and the WA Tweaks app. Share this with your friends and I am sure they will like it. You can show off so many features of your Whatsapp with your Friends and Family. When I discovered the app at that time only I decided that I will write a post on it.
Tags : WA Tweaks APK, wa tweaks app download, how to download wa tweaks, wa tweaks without root, wa tweaks apk latest, wa tweaks no root
Watch Video to Know more about Rooting ?
[ad_2]